About the Author/Presenter
Reginald W. Bacon, author of The Cranky Typographer's Book of Major Annoyances: Helpful Graphics Tips for Do-It-Yourself Designers, and The Cranky Editor's Book of Intolerable Fox Paws (Oops! Fuax Pas!): Helpful Writing & Style Tips So You Won't Look Stoopid, has been a journalist, editor, graphic designer, and publication director for 50 years. He's seen a lot --- much excellence and too much junk. No wonder he's cranky.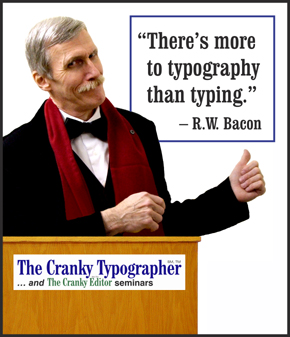 As a writer he has been a newspaper reporter, magazine feature writer, promotional writer, fixer of moribund ad copy, researcher, historian, and author of seven non-fiction books. As an editor he has been a copy editor and content editor for newspapers, magazines, newsletters, scholarly publications, training manuals, books, and website content. As a graphic designer he has designed newspapers, magazines, books, newsletters, advertising & marketing materials, corporate identity materials, signs, posters, exhibition graphics, websites, junkyard forms, and lost cat notices. As a print graphics production specialist he has prevented thousands of hapless-and-grateful do-it-yourself clients from sabotaging their own work and looking like complete idiots.
The author --- and presenter of the related seminars --- began his journalism and publications career as a 15-year-old sports reporter, but within a few years was covering everything from cows on the highway to con-men in public office, and soaking up the wisdom of hard-boiled veteran editors. A journalism education followed at Syracuse University's Newhouse School of Public Communications (B.A., Journalism), where he became a disciple of renowned publication designer Edmund C. Arnold (1914-2007), and an assistant at the Frederic W. Goudy Typographic Laboratory. He is also a graduate of the Maxwell School of Public Affairs (B.A., Sociology) at Syracuse University.
After his first decade as a journalist, editor, publication designer, and print production specialist, that professional course was set aside for a time in favor of a well-traveled career in showbusiness as an acrobatic juggler, comedy tap dancer, and jazz/ragtime tenor banjoist/vocalist. He and his wife and partner, the sensational juggler L.J. Newton, toured nationally for over 25 years, performing in every kind of venue from theatre and film productions to the circus arena. During this period, skills in promotional writing, advertising, and publication design were well-utilized for both in-house and freelance projects. After concluding his stage career, he pursued graduate studies at Harvard (C.M.S., Museum Studies) to redirect the publication and exhibition design specialties to the history and museum professions. For an overview, visit the Variety Arts Enterprises web site. As a scholar of early 20th-century vaudeville and circus, he currently presents "A Vaudeville Retrospective," an illustrated lecture, performance, and exhibition conceived expressly for museums, historical societies, libraries, and college theatre departments.
At the earliest part of his career, he was part of the transition from hot-metal type composition to photo-type composition and paste-up layouts at the art table. Later he was on the front lines of the computerized "desktop" design revolution, and survived with principles and relative sanity intact. Today, in the 21st-century Internet era, the author combines research, writing, and design specialties to produce website content and graphics --- as well as old-school, hard-copy publications and interpretive materials --- for museums and history organizations. In his recent books and seminars for today's do-it-yourself writers and designers, the author shares insights gleaned from five decades in the field. His public speaking and presentation skills, well-honed in both showbusiness and in the museum/history field, are well-utilized in his current seminars, as the entertaining persona of The Cranky Typographer and The Cranky Editor adds laughs to the learning.
Reginald W. Bacon is the author of six other books on performing arts and history topics. His book on the 17th-century history, domestic life, and architecture of Middletown, Conn. was honored with the Brainerd T. Peck Award in 2013. For more information on this and other books, visit the publisher's website at www.VarietyArtsPress.com.
The author and his wife live in Newburyport, Mass., a small city north of Boston where the Merrimack River meets the Atlantic Ocean.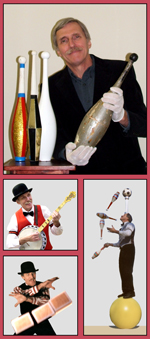 Looking for R.W. Bacon, showbusiness version?
To those looking for the veteran acrobatic juggler/unicyclist, jazz tenor banjoist, and comic dancer --- Yes, that's me. I retired several years ago from a 35-year career in commercial showbusiness, but still keep much of the repertoire stage-ready, and include performance excerpts in the Vaudeville history presentation for museums, "A Vaudeville Retrospective." My wife and partner, the sensational club-juggler L.J. Newton, retired from the stage in 1999. We are still happy, healthy, and injury-free after a well-traveled career. (See the Variety Arts Enterprises web site for additional information, especially the profiles on selected mentors and friends.) Since I was a journalist, editor, and publication designer before showbusiness, and a researcher, author, and historian during, the transition to the museum field was a natural fit. To distant friends, longtime fans, fellow performers, and former juggling/circus arts students, I would be glad to hear of your recent adventures. To new friends and museum colleagues intrigued about the performing arts career, please feel free to explore the various links at the Variety Arts Enterprises web site. Thank you. --- Reg Bacon