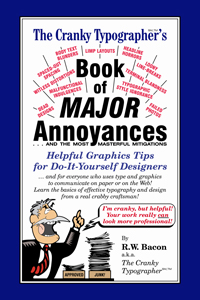 The Cranky Typographer's
Book of Major Annoyances:
Helpful Graphics Tips
for Do-It-Yourself
Designers
By Reginald W. Bacon
(Newburyport, Mass.:
Variety Arts Press, 2014)
240 pages; indexed
ISBN: 978-0-9817945-7-0
LOC: 2013921717
Today almost everyone with a computer on their desk gets pressed into service as a "designer-by-default" --- but without any training in the craft. This information-packed book offers an introduction to professional typography and page layout that will improve both the look and effectiveness of do-it-yourself "desktop" design projects. The author, adopting the persona of The Cranky Typographer, first identifies the common missteps in typography and design, then explains how to avoid them. Over 250 illustrative examples, encompassing the good, the bad, and the hopeless, are derived from the author's five decades of varied real-world experience. That experience has enabled the author to conjure up two characters that supply many of the examples in the book: Sharp Sally, from Sharp Sally's Darn Good Design Co.; and Sloppy Joe, from Sloppy Joe's Phast & Cheep Graphics, Ltd. Offering so many laugh-out-loud examples of Major Annoyances, is the author really that cranky? Read the book, find out, and along the way learn what you never knew about the venerable craft of typography and the still-current principles of functional, effective design.
The book presents the challenges in typography and design in the order that the do-it-yourselfer usually faces them in a project. Following an introduction to typography are separate chapters on the use and mususe of body type, display type, and spacing; and the consistent application of typographic style. Then, following an introduction to graphic design, are separate chapters on choosing appropriate typefaces, effective use of photos & illustrations, executing a precision layout based on the design, and preparing trouble-free digital files for production.
For those who engage professionals for printing, advertising, and Web design, this book will help buyers distinguish a real pro designer from a hack with no training. For students, professionals, or anyone interested in typography, design, or graphic production, the author's curated and categorized bibliography is a fine basis for an authoritative reference library on the subject.
The Cranky Typographer's Book of Major Annoyances is also the companion book for the seminar "Helpful Graphics Tips for Do-It-Yourself Designers." Seminar attendees receive a copy of the book for reference and follow-up study.
$20.00 (US) includes book-rate shipping in the U.S. (Inquire for additional international shipping cost.)
Payment accepted by PayPal, check, or money order.
To order by postal mail, send order details, your shipping address, and payment to Variety Arts Enterprises, P.O. Box 489, Newburyport, MA 01950.
For online purchase of your single copy of
The Cranky Typographer's Book of Major Annoyances ONLY,
click the Paypal button immediately below:
The Two-Book Discount:
Get BOTH "Cranky Books" for only $30
(with shipping)!
For purchase of your DISCOUNTED (16.7%!) two-book set
of The Cranky Typographer's Book of Major Annoyances
AND The Cranky Editor's Book of Intolerable Fox Paws
(Oops! Faux Pas!), click the Paypal button immediately below: