Booking Information
The Cranky Typographer's Helpful Graphics Tips for Do-It-Yourself Designers and The Cranky Editor's Helpful Writing & Style Tips So You Won't Look Stoopid are both self-contained presentations with digital projection system (laptop computer, projector & screen), sound system (if needed), and all extensions and power strips.
Seminar conditions & requirements
Venue: Lecture hall, conference room, classroom, or meeting room are all acceptable.Suggested "conference room" presentation area: 12' deep x 12' wide (For groups of 20 attendees or fewer, presentations in smaller rooms can be in a cozy "roundtable" format.)
Attendees: Maximum of 50 attendees in the lecture hall setting, to allow for addressing individual questions and concerns; minimum of 6 attendees in a meeting room or classroom setting.
Access to electricity: 110v AC outlet.
Lighting: General overhead room lighting is adequate. Where possible, the option to dim lights will enhance the digitally-projected visuals.
Arrival, Load-in, Set-up: Arrival for load-in and set-up is at least two hours prior to doors opening. Please arrange for adjacent parking/loading space.
Green Room: For the 3-hour presentation with mid-session break, arrange for private space for the presenter to recharge and refuel for the "second half."
Audio & Video recording: Recording of the seminar is prohibited.
Loud Guffaws: Howling ridicule of the presenter's extreme examples of dull writing and moribund graphics is encouraged! Within reason, this reinforces the presenter's "Now you've seen it, so don't do it" approach to teaching the material.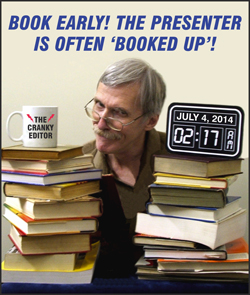 Cost
Seminar Cost: Contact the presenter for current respective rates for the one-hour and three-hour seminar.
Travel/Lodging Expenses: The presenter's travel and lodging expenses (when applicable) are added to the seminar fee. There are no travel or lodging expenses added for engagements within a 50-mile radius of Boston, Mass.
To arrange a seminar for your group, contact the presenter directly to discuss schedule preferences, venue logistics, and to determine the program that best suits your needs.